© By Othmar Vohringer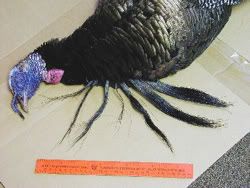 It has been somewhat of an ambition of mien for several years now to shot a gobbler with two or more beards. While I still keep looking for such an unusual tom Jerrell Keehle of Mississippi has shot a tom with not one, not two, but seven beards.
Jerrell Keele knew his turkey had a pretty good beard on him when he shot him last month. He could see the black hairs hanging from the gobbler's neck when he shot him from 37 yards away.

But the 67-year-old Burnsville resident didn't realize that the 17.28-pound turkey actually had seven beards and scored enough points to make it a state record in the nontypical division.

There were so many beards that the registration form had to be altered.

"The form only has room to write in six beards for each turkey," said Keele, whose turkey scored 151.155 points. "Jerry Hazlewood (the Northeast Region wildlife biologist) wrote in the seventh beard on the side of the form."
Maybe I have been looking in all the wrong places in my quest for a multiple bearded tom because Keehle reports.
"No, I hadn't seen him before, but I knew there had been some up in there" in the hunting club property, he said. "I had seen one with three beards, and another one had four beards. Really, it's just something that's handed down from one generation to the next."
Congratulations Jerrell to the once in a lifetime trophy tom.
Read the full story here
.
Tags:
Trophy Tukey
,
Seven Bearded Turkey
,
Jerrel Keehle
,
Mississippi
,
Turkey Hunting