© By Othmar Vohringer
Anybody that hunts wild turkeys for a year or tow has learned one important lesson when it comes to fooling a longbeard into shooting range. The lesson is, the more realistic you create the illusion of real live turkey hens the more likely it is that a tom will fall for it.
Creating this illusion is somewhat of a problem, especially in areas where the birds are hunted heavily. In such areas the turkeys have seen and heard it all, from the good to the ugly, and have learned the lesson well. Coaxing one of these call shy birds into shooting range is nothing short of a miracle.
How to create the perfect illusion of real life turkey hens? Well it all starts with good calling tactics and by using calls that are capable of reproducing the natural sounds the birds make. To entice a tom to venture into your setup it is often necessary to sound like several hens.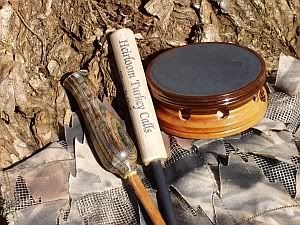 Heirloom Turkey Calls
has recognized this need and has added the Double Barrel call to their lineup of quality turkey calls. Each Double Barrel Call, like all Heirloom calls, is hand made and tuned individually. It is this dedication to detail and innovation that guarantees that each call has a true natural turkey sound.
But Brian Warner of Heirloom went one step further. In creating the Double Barrel Call Brian made it possible for the hunters to imitate the sounds of different turkeys with one and the same call. The Double Barrel Call, as the name suggests, has two play surfaces of which one is glass and the other slate or copper.
With this smart innovation a hunter can now make the sounds of a flock of hens and jakes without ever having to change calls. The natural sounding calls and the imitation of a whole flock of hens will get the weariest tom fired up and eager to come running.
Good calling is only one equation of a good set up. Once the longbeard comes to your calling he will look for another bird. If he doesn't see one he knows instantly that something is not right and will either hang up or swap ends and be gone.
To avoid this we need to give the tom a visual illusion in form of a turkey decoy. Decoys are a great way to fool a tom but there has been a small problem in making decoys behave realistically. Most decoys are staked to the ground and some even will move a little in the wind. But lets face it. There is not much realistic about a turkey that keeps spinning in the wind. To tell you the truth, I have seen several toms that so scared by spinning decoys that they started to run.
Some manufactures came up with decoys that can wiggle their tails or bob with the head. Usually these limited motions are accomplished by pulling on a string or battery operated. Somehow I am not a big fan of to many electric gizmos as in my experience they seem to fail precisely at the moment were I need them most.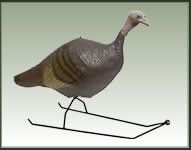 A new company came up up with an ingenious solution to the decoy motion problem. The Decoy Sled is a simple innovation that will make all the difference. All you do is the mount the decoy onto the sled with a provided bracket. Attach a haul line to the sled and you have a walking turkey. It really sounds simple and it is. That is the beauty of this design. It is simple to use and yet highly effective as the provided video below will demonstrate.
The innovators of the Decoy Sled are veteran turkey hunters with many years of experience and here is what they have to say about the Decoy Sled.
"
Our patented design helps you give all your decoys life-like action. It can be used with a feeding decoy, or a regular decoy. Turkey hunters are amazed at how the Decoy Sled can "lure in" a Tom, avoiding frustrating "hang-ups" which can keep your target out of shooting range. Setup is a breeze and requires no tools.
The Decoy Sled is made in the USA and designed by hunters with over 90 years of combined hunting experience. It is lightweight and deadly in the field – you will never want to be without it. All kinds of decoys will work on The Decoy Sled, including turkeys, rabbits and a variety of small game
."
For more information on the Decoy Sled or to purchase one visit,
The Decoy Sled
For more information on Heirloom Turkey Calls or to purchase one visit,
Heirloom Turkey Calls
Tags:
Turkey Hunting Tips
,
Heirloom Turkey Calls
,
Turkey Calling Tactics
,
Turkey Decoy
,
Hunting Products
,
Turkey Hunting Video