© By Othmar Vohringer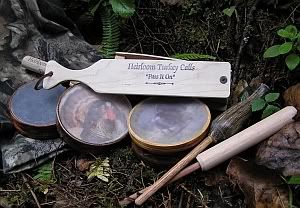 Heirloom Turkey Calls announces a new product that will make it a snap to convert any cheap run of the mill box and slate type calls into a quality product. The solution is replaceable copper surfaces.
Brian Warner owner of Heirloom Turkey Calls had this to say about his invention. "Copper has for generations been used to make bells because of its excellent sound qualities and this holds true when it is applied to a turkey call. Originally designed for Heirloom Turkey calls, this surface has proven to be just as effective on other manufacturers calls and can even be used as a repair for a cracked slate or glass surface. Simply peal away the backing and affix the new Copperhead surface above the damaged glass or slate and you're back in the hunt. No glues, tapes, or drying time, and no need for chalk on your box call lids!"
The copper surface has turned out to be a great idea because a person can take a cheap knock off call and improve the quality of the sound for such a low price or keep his Heirloom call in perfect order with such a simple process.
Priced at $7.00, a fraction of the cost of a new call, you can afford to keep one in your vest as well as on your calls. Should the need arise, you can peel the old surface off and replace it with a new one or even just lay the new surface over the old. Copperhead Replaceable Calling Surface set also available for $14.00. Best of all, the Copperhead is completely waterproof and that is very important since the best time to hunt is in weather conditions when all other hunters stay home.
Visit the Heirloom
Website
and see the complete lineup of top quality turkey calls made by hunters for hunters.
Tags:
Heirloom Turkey Calls
,
Slate Call
,
Box Call
,
Turkey Hunting
,
Turkey Hunting Tips