© By Othmar Vohringer
Drum roll please…the winner of this years spring turkey hunting contest is…We will be right back after this announcement.
Thanks to everybody that has taken part in the 2008 Spring Turkey Hunting Contest. All the submissions were outstanding testimony to the dedication common to all successful turkey hunters. I enjoyed reading each and every one of the submissions and was glad that I did not have to pick the winner myself. I would have had a real hard time picking a winner from all the submission because, as I said each and every one told a story to which I could personally relate or that brought back memories of experiences I had in the turkey woods.
The winner of the contest will receive an Heirloom double Barrel turkey call.
Heirloom
turkey calls are all handmade by veteran turkey hunter Brian Warner of Louisiana. Brian started making his own calls because he just never could find a call that produced that important natural sound. It didn't take long for serious hunters to realize that Brian was on to something that no other call manufacturer could match. Soon Brian had a little cottage production going, making calls for friends and for special orders. A year later Heirloom Turkey Calls was founded and the rest is history as they say. Heirloom calls are still made the way all quality products are made. Or as Brian Warner told me; "If it's not good enough for me I will not sell it to a fellow hunter", and so Brian still makes each call by hand and diligently tunes them individually. The hard work pays off by more hunters that demand his turkey calls and a wall full of success stories from satisfied customers.
I am a proud member of the Heirloom Pro Staff and had the fortune to field test many of their calls and can attest that these calls are simply the best. For this years contest I thought that I wanted to do something special by giving away a brand new Double Barrel call, my favorite, from my own stock.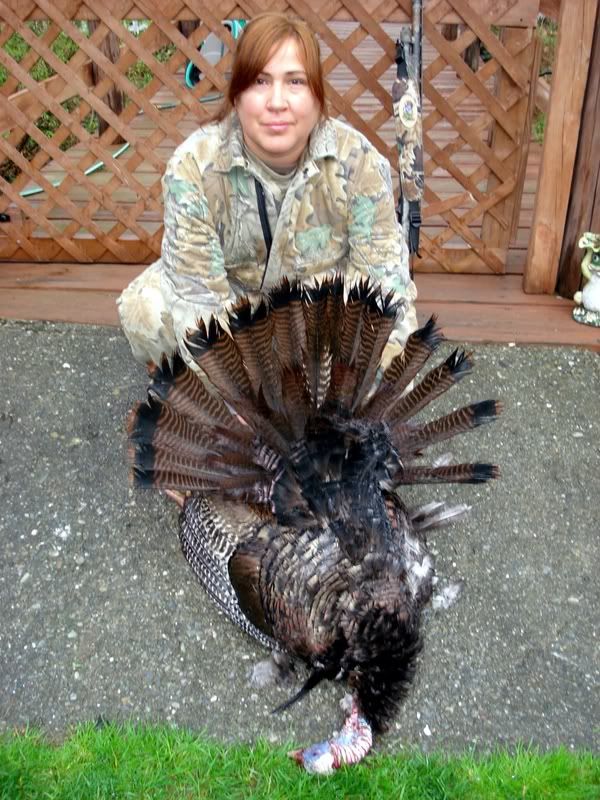 …Welcome back to the 2008 Spring Turkey Hunting Contest. To establish a winner I used a nifty little computer program. It was quite fun to watch on small screen how it jumbled and tossed the numbers around and then finally one number started to flash. The computer picked the number six (#6).
The winner of this years contest is
Sandy's Rainy Day Gobbler
. Congratulations Sandy and I hope that after your very first turkey harvest this year you will go on and harvest many more for years to come. I know that your prize, the Heirloom double Barrel call, will be a great aid in bringing those weary big toms in for you.