© By Othmar Vohringer
Deer hunting season is over in most states and soon will be in others. Now is the time to turn our attention to the upcoming spring turkey hunting season.
It's a good idea to spend some time on the shooting range to pattern you shotgun, try out new loads and chokes or work little kinks out. Now is the time, not one week before the season opener, to buy a new shotgun and get familiar with it at the shooting range.
If you need to find a new turkey hunting property start knocking on doors. The sooner you find a landowner that grants you permission to hunt the more time you will have to scout the land.
Brush up on your turkey calling routines. Or if you need to buy new calls do it now and tune them in. Most turkeys have become call shy, the closer your calling efforts sound to the real thing the better the chances are that a big old tom will pay attention to it.
Of course good calling starts by using quality calls. I don't know much about other turkey call manufacturers other than the few calls I have used in the past until I discovered
Heirloom Turkey Calls
. I was so impressed with the quality of the sound and workmanship that I decided then and there to make Heirloom calls my primary tools to coax a tom into shooting range. A decision I have never regretted.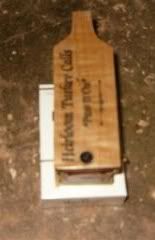 The newest Heirloom call is a sweet little box call, but don't be fooled by its small size, the sound it makes is big. This is the perfect call to bring a bird closer to you. Make sure to visit
Heirloom Turkey Calls
to see the complete line up of turkey calls and listen to the incredibly natural sound these calls produce.
Get out and scout now, learn as much about the terrain features and local turkey population as possible. Find the food sources and the roosting trees and from there figure out the possible travel ways. Make careful notes that you can refer to when you do your preseason scouting.
A good part of what makes a successful turkey hunter is to be prepared well in advance of turkey hunting season. Don't leave everything up to the last minute. Remember the early bird catches the biggest worm, or turkey in this case.
Note to hunting goods store owners, outdoor event organizers and others interested in holding seminars. Now is also the time to book a speaker for your upcoming turkey hunting seminars.
Inquire
about my entertaining and educational turkey hunting seminar topics and calling clinics.
Tags:
Turkey Hunting
,
Game Calls
,
Shotguns
,
Heirloom Turkey Calls
,
Turkey Hunting Seminars