By Othmar Vohringer
Here at SHS we are committed to the recruitment and promotion of young and new hunter. Therefore I am particularly pleased to write today about a young hunter from Florida winning her first turkey calling contest.
Terri Lynne Benoit, sister of noted outdoor writer
Toby Benoit
, took part in the junior division of the Florida State Turkey Calling Championship hosted by the
National Wild Turkey Federation
and
Bass Pro Shops
in Orlando, Fl. For Terri Lynne this was the first contest ever, in which she promptly made it to second place. She tells me, "I was nervous, but all the other kids in the junior category told me how good my calls sounded that I got over it. I had to play a fly-down cackle, a cutting from an excited hen, a plain hen yelping, and my best call, which I purred like a feeding hen."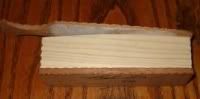 I am not surprised that the other kids found that Terri's turkey call sounded great, after all she used a
Heirloom
Rebel Yell Box. I use exclusively Heirloom calls for all my turkey hunting. I am so impressed with the sound and quality of these calls that I had not to think twice about it when Brian Warner, the founder of Heirloom Turkey Calls, asked me to join his pro staff team. It's a product that I can put my name and reputation to it without any doubt.
Terri Lynne's turkey calling contest success pleases me in several ways. First, because she is a young hunter and as such she is a positive role model to others that would like to join our rich hunting and outdoor heritage. Of course I am also thrilled at the fact that a Heirloom turkey call outplayed all the other calls at the contest and last but not least. Terri Lynne is a member of the
SHS Hunting Chat Forum
were she is a regular guest in our
"Passing the Heritage On"
youth and new hunters dedicated forum.
With young hunters like Terri Lynne Benoit, among others just as dedicated to the hunting heritage, the future of hunting is in good hands. Terri told me that she enjoys every minute with her brothers and friends in the great outdoors learning about wild animals and how to hunt them. Please next time you head out to the woods take a child or novice hunter with you and teach them about hunting and wildlife stewardship so they too can enjoy our great hunting heritage and with that secure the future of hunting for generations to come.
Tags:
Heirloom Turkey Calls
,
Turkey Calling Contest
,
Young Hunters
,
Bass+Pro+Shop
,
National Wild Turkey Federation